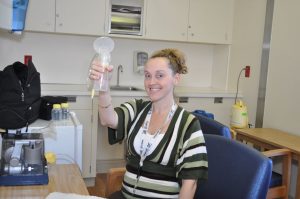 WBC is excited to announce another mini grant opportunity to help improve worksite lactation support across Wisconsin!  Please see this application link for more details and encourage businesses in your community to apply.
Purpose: To improve lactation services and policies within workplaces and to address disparities in lactation support offered to women of various backgrounds and experiences.
Eligible applicants: Wisconsin employers committed to offering breastfeeding support to their employees. Applicants must be working with and/or willing to work with a local health department, tribal health agency or breastfeeding coalition to be eligible for this award.
Award amount: $ 250.00
Deadline: Applications due by June 1, 2019
Project completion deadline: September 30, 2019
Upon completion of project, awardees are required to submit:
Photos of completed project (before and after)
Copy of approved new/revised lactation policies
Brief narrative of project outcome/results