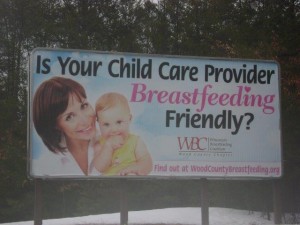 Wisconsin Breastfeeding Coalition is a proud partner in the state's Breastfeeding Friendly Child Care initiative!
This program recognizes group and family child care providers across Wisconsin who have demonstrated their support for breastfeeding families. Using the 10 Steps to Breastfeeding Friendly Child Care Centers Resource Kit as a guide, local breastfeeding coalitions, local health agencies, and Child Care Resource & Referral agencies work with providers to learn about breastfeeding and to help them improve their practices, policies, and child care environments to better support nursing families. Facilities undergo assessments, create action plans, and receive technical assistance to make needed improvements.  Once they meet the 10 Steps, providers are awarded and recognized as "Breastfeeding Friendly."
Child care providers can play a critical role in supporting breastfeeding families to help them meet their breastfeeding goals. The majority of mothers return to work or school while their babies are very young, so it's essential that caregivers are knowledgeable on how to best support both mom and baby when they are separated. By implementing policies and best practices, child care programs can also improve the quality of care they provide.
Useful Links
CDC Success Story: Wood County, Wisconsin, Childcare Providers Remove Breastfeeding Barriers
Resources for Providers
Online Breastfeeding Training  (approved for continuing education hours for Wisconsin child care providers)
Interested in recognizing child care providers in your area of Wisconsin?
For any questions related to the Breastfeeding Friendly Child Care initiative, please contact: wbcbreastfeedingfriendly@gmail.com.