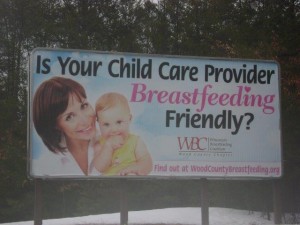 The Wisconsin Breastfeeding Coalition is a proud partner and supporter in the state's Breastfeeding Friendly Child Care initiative!
This program is recognizing group and family child care providers around the state who have demonstrated their support for breastfeeding moms and babies. Using the 10 Steps to Breastfeeding Friendly Child Care Centers toolkit as a guide, local coalitions and Child Care Resource & Referral agencies work with providers to learn about breastfeeding and to improve their practices, policies, and child care environments to better support nursing moms. Sites undergo assessments, create action plans, and receive technical assistance to make needed improvements.  Once they meet the 10 Steps, providers are awarded and recognized as "Breastfeeding Friendly."
If you would like to work with child care providers in your area or want more information on this initiative, visit the Wood County Breastfeeding Coalition website. You can view the online 10 Steps training available for child care providers and can learn more about how your coalition can sign on as a participating organization. You will need to complete the partnership agreement to gain full access to the resources and support available.
WBC works closely with the Wisconsin Department of Health Services and many key partners through the Wisconsin Early Childhood Obesity Prevention Initiative to expand and sustain these efforts throughout the state.
The Guidance and Resources Committee is happy to support coalitions interested in working on this project. For any questions related to the Breastfeeding Friendly Child Care program, please email: wbcbreastfeedingfriendly@gmail.com.