2016 Local Coalition Awards Program
Congratulations to the 2016 winners! We are always thrilled to recognize you for your achievements and efforts!
Silver Level:
Manitowoc County Breastfeeding Coalition
Gold Level:
Breastfeeding Coalition of South Central Wisconsin
Ho-Chunk Nation Breastfeeding Coalition
Northwestern Wisconsin Breastfeeding Network
Wood County Breastfeeding Coalition
The focus areas for the 2016 awards were: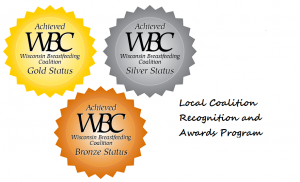 Maternity Care Practices that Support Breastfeeding
Breastfeeding Disparities (e.g., race/ethnicity, socioeconomics, geography, etc.)
Awards were announced at the 2016 WBC Annual Summit on September 23.
2016 Awards Program description
Past Awards
The Western Wisconsin Breastfeeding Coalition was the 2015 Coalition of the Year! WBC recognized the coalition at the 2015 Annual Summit to celebrate their growth in infrastructure and their commitment to capacity building and local partnerships. Congratulations!