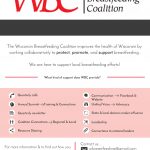 WBC Coalition Membership Includes:
Free admission for individual members or for 2 breastfeeding organization member representatives to attend the Wisconsin Breastfeeding Coalition Annual Summit (Minimal charges will apply for additional attendees and for associate and corporate members)
Networking opportunities with local Wisconsin breastfeeding coalitions and stakeholders
Statewide promotion of your local efforts and events through the WBC network
Technical assistance with coalition-building, media, fundraising, and other training needs
Acknowledgement as a WBC member in communication programs and resources
A coalition chapter logo based on the WBC state logo
Regular updates regarding evidence-based breastfeeding practices, resources, and upcoming events
Invites to other WBC special events
Opportunities to advocate for Wisconsin breastfeeding policy changes
Membership Levels
Individual Membership ~$45
An individual member is a member who seeks to promote, support and protect breastfeeding.
Breastfeeding organization – $75
A recognized breastfeeding coalition, association, committee, or task force committed to the mission of the Coalition.
 Associate – $75
A nonprofit, education, or government organization committed to the mission of the Coalition.
Corporate Membership ~ $250
A business or corporate organization seeking to protect, promote, and support breastfeeding.
Membership dues and contributions will assist the coalition with maintaining its health & growth, while continuing to improve the health of Wisconsin by working collaboratively to protect, promote, and support breastfeeding.
Payments can be made by mailing a WBC Membership Application  and check to :
Wisconsin Breastfeeding Coalition
PO BOX 070356
Milwaukee, WI 53207
Questions and comments can be directed to wibreastfeeding@gmail.com.
If paying online, please still send us your WBC Membership Application